BGA is a set of tools to help modders of Battlefield 1942 and Battlefield Vietnam manipulating their files.
These tools are commonly used to extract/import data from/into rfa (battlefield archive file), quickly searching for a file in an archive, previewing common files like images, scripts, models, heightmaps.
Warning: RFA manipulation code is still beta, you should make a copy of your archives before saving
Feature list
Param read support (allow opening directly a RFA archive from the shell)
Recent opened/saved file list
Real compression support
Import any files into RFA archive
Import and compress any files into RFA archive
Export any files from RFA archive
Export and decompress any files from RFA archive
Direct edit of any files without having to extract them manually
Batch import/export
Drag&drop support
Quick save operation even with compressed data
Defrag operation (due to quick save)
Search bar to easily find a file/folder
Built-in Standardmesh (.sm) model preview
Built-in Heightmap (.raw) + Terrain (.con) preview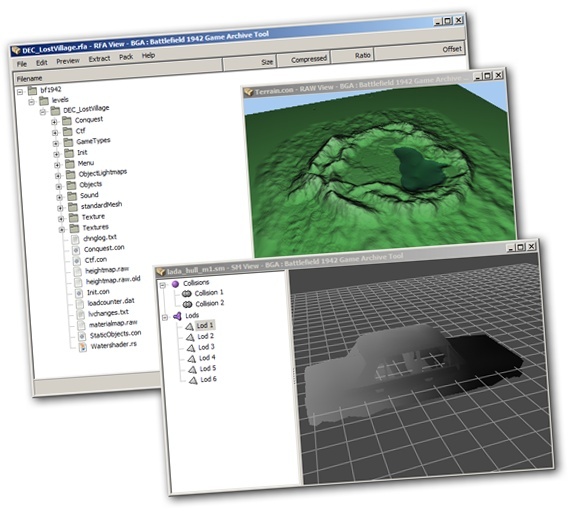 Official BGA Site
Click
here
for program updates. For more info, check
this
topic.